Yeduguri Sandinti Rajasekhara Reddy(YSR)
Yeduguri Sandinti Rajasekhara Reddy (8 July 1949 – 2 September 2009), popularly known as YSR, was the Chief Minister of the Indian state of Andhra Pradesh.[3] He represented the Indian National Congress party. He was elected to the 9th, 10th, 11th and 12th Lok Sabha from the Kadapa constituency for four terms and to the Andhra Pradesh Assembly for five terms from the Pulivendula constituency. He also holds the record of not losing any election throughout his political career.[4] In 2003 he undertook a three-month-long paadayaatra, or walking tour, across several districts in Andhra Pradesh.[5] He led his party to victory in the next general and assembly elections held in 2004. On 2 September 2009, a helicopter carrying Reddy went missing in the Nallamala forest area. On the morning of 3 September 2009, media agencies reported that the helicopter had been found crashed on top of Rudrakonda Hill, 40 nautical miles from Kurnool. This was later confirmed by the Prime Minister's office and all five people aboard were pronounced dead at the scene.

Friday, January 8, 2010
YSR as a College Student in Bellary
YSR with his Spouse Vijaya Lakshmi
On his day of Marriage, with spouse Vijaya Lakshmi
YSR with YS Jagan (in his childhood)
YSR at the Birthday Celebrations of his son YS Jagan Mohan Reddy
YSR with his spouse Vijaya Lakshmi and daughter Sharmila
YSR with his spouse Vijaya Lakshmi and daughter Sharmila
YSR with his Family
YSR with his Parents & Family
YSR with Ravi Shankar (Art of Living)
YSR with Church Father
YSR with Rahul Gandhi
YSR signing on the File of 'Free Electricity to the Farmers of Andhra Pradesh"
YSR with Swami Agnivesh
YSR with YS Jagan Mohan Family and Grandchildren
YSR with Indira Gandhi
YSR with Rajiv Gandhi
YSR with Sonia Gandhi
YSR with his Best Friend KVP Rama Chandra Rao
YSR with Sabitha Indra Reddy
YSR with his 'Shadow' (Loyal Personal Assistant) Sureedu aka Surya Narayana Reddy
YSR with his Better Half Vijaya Lakshmi
YSR with his Family and Grandchildren
'Happy Days' with his Spouse Vijaya Lakshmi









Dr. Yeduguri Sandinti Rajasekhara Reddy, popularly known as YSR, is an astute politician and a charismatic mass leader who has carved for himself a niche in State politics by his exemplary devotion and dedication to the uplift of the downtrodden and neglected segments of society. Born on July 8, 1949, in Pulivendula in the backward Rayalaseema region, YSR has always struggled to secure the rights of the poor and the underprivileged.

Son of late Sri YS Raja Reddy, a dynamic leader in his heyday, Rajasekhara Reddy evinced interest in politics right from his student days. While studying in M R Medical College, Gulbarga, Karnataka, he served as President of the Students union. He was elected leader of the House Surgeon's Association in S V Medical College, Tirupati.

After completing MBBS, he served as Medical Officer at the Jammalamadugu Mission Hospital for a brief period. In 1973, he established a 70-bed charitable hospital, named after his father late YS Raja Reddy at Pulivendula. His family established one polytechnic and one degree college in Pulivendula, which were later handed over to the well-known Loyola group of institutions.

Rajasekhara Reddy's sound business acumen, entrepreneurial skills, and, above all, his transparency brought him laurels in the business arena. On the flip side, his success also brought him many adversaries, political and otherwise, who were desperately looking for a shred of evidence to prove umpteen charges against him. In the end, their mud-slinging did not yield a single point that could paint the massleader in bad light. In fact, his detractors became red-faced, as they had to swallow their words.

Groomed by a family deeply involved in public service, YSR entered active politics in 1978 and contested elections, four times to enter the State Legislative Assembly and an equal number of times to enter the Lower House of Parliament. A winner in all that he does, YSR won all the elections he contested. Even today his admirers exclaim: "He (YSR) defeats defeat."

During his 25-year-long political career, YSR has served the people in multiple capacities, both in Government as well as in Party. He was President of the Andhra Pradesh Congress Committee (APCC) twice – 1983-1985 and 1998-2000. During 1980-1983, he was a minister holding important portfolios related to Rural Development, Medical & Health and Education etc. From 1999 to 2004 he was the Leader of Opposition in the eleventh state assembly.

As a champion of the masses, his stentorian voice in the assembly, raised particularly during debates that sought to lend voice to the voiceless millions, forced the Government to retrace several anti-people steps it contemplated. YSR has been instrumental in orchestrating several mass struggles, while highlighting issues facing peasants, weavers, Dalits, youth and women. His relentless fight for clearance of pending irrigation projects, particularly in the backward Rayalaseema region, has earned for him a special place in the hearts of millions of farmers. His unremitting struggle against certain anti-people economic measures that were sought to be introduced in the name of "reforms", including the frequent increases in power tariff and indiscriminate privatization of public sector units, exalted him far above the street smart politicians.

Even as a novice in the legislature, YSR rallied all the Congress MLAs from the Rayalaseema region and led an indefinite hunger strike demanding solution to the water crisis. He also led a Paadayaatra from Lepakshi to Pothireddipadu in Kurnool district. The 14-day hunger strike of legislators under his leadership in August 2000 to register protest against the hike in power charges is still fresh in the memory of people. By systematically exposing the misdeeds of the then Government, both inside and outside the Assembly, YSR was playing hispolitical role to the hilt.

During mid-summer in 2003, he led an unprecedented 1400 Km long Paadayaatra covering all backward areas in the state to understand the ground realities of living conditions of the people there.

Now, as Chief Minister, the crowning glory of this studded political career, he can proudly claim to be the quintessence of a politician who, with vision focused on the coming generations as well, has earned the title of a statesman. Amidst a bewildering number of turncoats among politicians, who thrive in "shifting loyalties", YSR stands out as a sterling example of the old guard in pristine Indian politics.

This explains why he has never turned his back on the Congress party, which nurtured his political moorings. The lure of power and pelf could not divert him, when the party was briefly out of power, from his mission to hold the reins of power as a trusted lieutenant of the Congress and, more importantly, as a darling of the masses. Sworn in as Chief Minister of Andhra Pradesh on 14.05.2004.

YSR's Personality

A modest Personality:

Dr.Reddy,unlike most politicians, reflects the spirit of a true Indian who walks his talk.While his thought is dressed with all that is modern and ennobling, Dr.Reddy's person is invariably clothed in traditional costumes that include dhoti and a shirt made of handloom cloth.In all of his public and private conversations, he speaks from the core of his heart. Naturally, he hates hypocrisy.

As a demanding Chief Minister, YSR expects bureaucrats to do their job meticulously, and present before him only facts that are shorn of all publicity-oriented and manipulative figures. He does not tolerate hype and extravaganza in communicating official messages. He wants incontrovertible facts stated in a simple language that is intelligible even to the unlettered, because taking administration to the people is an article of faith for him.

His Philosophy of Life:

Dr. Rajasekhara Reddy strongly believes that the human life is a boon provided by the Almighty to share one's blessings with others, while serving less privileged human beings.

"Don't count the years you want to live. Ask yourself how much you have done for society at large with whatever opportunities the Almighty has provided you", is Dr.Reddy's word of advice for those who have excuses for not doing even what is within their means.

It is this humane principle that prompted him to take pioneering steps to ensure delivery of social security pensions to the needy in the first week of every month.

His stature:

Though measuring 5′7″, Reddy looks majestically simple in his appearance with an ever-smiling genial countenance. This in fact overshadows his unfailing willpower to achieve his targets with the resilience and tenacity of a spider.

When YSR undertook his unprecedented 1500-KM-long Padayaatra (march on foot) in scorching sun during summer in 2003,covering backward areas of the state in particular, few people could discern the underlying motive: knowing first-hand the real problems of the people in their own language and their doorstep.

His Mission:

As around 75% of the population in India depend upon agriculture for livelihood, most administrative efforts should be focused on the rural economy, he believes.

Citing renowned economists, Dr. Reddy regrets that neglect of the agriculture and irrigation sectors in recent years have become the bane rural economy. As a proactive Chief Minister, he embarked upon a massive programme of executing 26 major irrigation projects to create 65 lakh acres of new ayacut.

His Motto:

Dr. Reddy's motto is that the ultimate objective of any program executed under a democratic set-up should be prompt and dependable delivery of sevices to the common man.

With this as the guiding principle, YSR has advised bureaucrats at all levels to help revive the functioning of the administrative system at all levels without habitually looking for autocratic 'diktats'. 'Decentralization of administrative power within the guidelines of the policy framed by the government reflects the true spirit of democratic governance", Dr.Reddy argues.

His strength:

Dr Reddy's strength lies in his stature as a mass leader since his advent in politics. Whether in or out of power, he has always championed the cause of the common man. This has endeared him to all segments of the Congress party as well.

Even after becoming the Chief Minister in May 2004, Dr Reddy makes it a point to address all the problems that are brought before him directly by people, cutting through bureaucratic hurdles, every day.

If any scheme or programme under formulation is placed before him for approval, its outcome is a foregone conclusion that is dependent on Dr. Reddy's invariable query: "How best will it benefit the people at large or ensure good governance?"

His 'pastime':

A curious 'pastime' of Dr Reddy is to feel the pulse of people in rural areas on Sundays through the Rajiv Palle Batta.

The Rajiv Palle Baata is a novel mass contact programme under which the Chief Minister reaches out to even unmotorable areas in the rural areas for personally collecting feedback on the implementation of various programmes. This programme has become extremely popular, because it highlights not what the Chief Minister does in the glare of official publicity, but what his officials may not have done in the people's own words.

In view of the rational changes brought about in administrative matters following the success of Rajiv Palle Baata, the Chief Minister now extended the programme to urban areas through Rajiv Nagara Baata.

His Approach:

The Chief Minister's emphasis on development of the rural economy does not presuppose a blinkered approach towards new and emerging technologies.

Dr.Reddy is committed to a balanced approach towards giving thrust to information technology, bio-technology and all sectors that enhance industrial and agricultural production. His watchword is total transparency in all transactions and deals that envisage public-private partnerships or involve private investments. Because, YSR believes he is simply a custodian of people's trust that is invaluable.

It is not a coincidence that he loves the company of children and often "gets lost" in their World that is founded on trust of the highest order.




Posted by

Y. S. Rajasekhara Reddy
at

11:06 PM
7 comments

Y. S. Rajasekhara Reddy
Y. S. Rajasekhara Reddy was born at Jammalamadugu Mission Hospital near Pulivendula, Andhra Pradesh to Y. S. Raja Reddy and Jayamma in a Christian family. His father Raja Reddy was converted from Hinduism to Christianity. His schooling was in Bellary, where his father was a contractor for irrigation canal projects. He graduated with a degree in medical science from Mahadevappa Rampure Medical College (MRMC), Gulbarga University, Karnataka and completed his House Surgeonship at S.V. Medical College, Tirupati, Andhra Pradesh. He was the elected leader of the House Surgeon's Association at S.V. Medical College, Tirupati.
Dr. Yeduguri Sandinti Rajasekhara Reddy, the Chief Minister of Andhra Pradesh, is acclaimed, both by the National and the International figures that ever visited the State, as the best blend of an able administrator and the most loved leader of the masses. A go-getter to the core, Dr. YSR is known for his unflinching grit, steadfast determination and never wavering boldness in translating his vision into reality.
| | |
| --- | --- |
| | Having a clear vision is something and striving to make it a veracity is yet anotherthing. Dr. YSR has both the things in him. His policies of accentuated significance of agriculture on one side and making a provision for appropriate importance for the industrial sector on the other, stand as a proof of these two things in him. While allocating Lion's share of the State's funds for the Irrigation sector. Dr. YSR also endeavored his best to rope in the key industrial activity by offering a number of bounties to investors. |
By doing so Dr. YSR could successfully relieve the State reeling under the economic drought situation caused by the earlier regime in the name of a disinvestment process. This posture alone speaks volumes of his way of getting things done. For the last two years, as CM of Andhra Pradesh,Dr. YSR has been successfully pushing forth the priorities of multi pronged economic strategy with a thrust on rural sector. Free power to the mute millions of the State - comprising almost 80 per cent of the State's population - that have been surviving on agriculture, testifes his commitment to his own promises. The greatest achievement of Dr. YSR, that any biographer to come could never miss to highlight, is providing a human angle to the heartless mechanism of the state. The confidence his government could induce into the marrows of the farming community makes every Telugu man proud. Today, if the Congress rule in A.P. is known as 'The Farmers' regime' all over the world, it is but for this very reason. Another feather on Dr.YSR's cap is winning the hearts of the hardcore advocates against the Free Power Supply to the favour of farmers of our State by presenting before them an invincible brief. The Prime Minister of India Dr.Manmohan Singh recently showered the choicest encomiums on Dr. YSR, the Chief Minister, for his "balanced approach toward the development of industry and agriculture in the State". It stands doubly relevant here as Dr. Singh happens to be an internationally renowned Economist too. It is everyone's knowledge that such a stance is rather mandatory and imperative for the accelerated growth of a dynamic and kicking economy like ours. Planners in India and abroad were at tandem in acknowledging Dr.YSR's "exceptional discretion as a policy maker" in contributing his best for the healthy growth of the key and vital sectors of our economy; namely the Agriculture and the Industry.
In 1978 he contested from pulivendula on Reddy-Congress Party and won the elections, Later he joined in Indira Congress.From 1980 to 1983 he was a minister holding important portfolios related to Rural Development, Medical Health and Education under T.Anjaiah Cabinet. He was elected to the Lok Sabha from Kadapa constituency four times and was elected to the Andhra Pradesh State Assembly six times from Pulivendula constituency. Reddy was the leader of the opposition in the Andhra Pradesh State Assembly for five years. As an MLA he was influential in obtaining water from the Tungabhadra River for the Pulivendula Branch Canal (PBC) and fought for projects like RTPP (Rayalaseema Thermal Power Plant) at Muddanur and Proddatur Milk Foods and its ancillaries
| | |
| --- | --- |
| | Agriculture forms the core of Dr.YSR's world of thinking. Although a Physician by profession,Dr.YSR is basically a son of the soil; a RAITHU BIDDA in its true sense. Hailing from a drought hit region - the Rayala Seema - he knows the real value of every drop of water. This is the very reason for his taking up the cause of farmers as a young legislator. He has always been in the forefront of leading several struggles for irrigation projects. After essaying the role of a policy maker Dr.YSR has been translating his dream of providing water for the thirsty fields into a reality.In pursuing his wish of transforming our state into a greener one - the dream of a HARITHANDHRAPRADESH - Dr.YSR allocated in the first Two years of his rule a sum of Rs.16000 Crore for building irrigation projects. Providing Houses for the homeless is yet another area which occupies a crucial importance in Dr.YSR's priorities. He allocated morethan 500 crores of Rupees for this sector alone. |
Basing on his personal interaction with the old and the aged people of the rural areas during the Prajaprasthanam Padayatra,Dr.YSR enhanced Old age pensions for the needy. This is a rare stance found in the age of political consumerism where the leaders bury their past experience as soon as they get elected to plum positions. Distributing Government lands admeasuring morethan 300000 acres to landless poor is another welfare measure that stands as a sound proof of the humane face of Dr.YSR's Ministry. A conscientious congressman, Dr.YSR has won the accolades from his friends and foes alike as a warm blooded and cool-headed man of masses. Honesty is not a virtue that was cultivated by him for years; it is rather his second nature. The way in which Dr. YSR stood loyal to his election manifesto stands as a testimony for this statement. Of late Dr. YSR, the fresh 'Role Model' in demand, evolved himself into national proportions if not international.
An Eventful Career
Dr. YSR is into active politics since a quarter of a century and has been representing his party on
different fora. He was elected to Loksabha from Kadapa constituency for four times and got elected to A.P. Assembly for four times from Pulivendula constituency. Dr.YSR, the legislator, fought many a battle on the floor of Assembly and outsmarted his rivals on every account. His Five year stint as the leader of the opposition in the State's Assembly has brought out the best of his oratorical art and arguementative skills. He remains one of those very few politicians around who never lost an election. Dr. YSR's role as an MLA in getting Tungabhadra water for Pulivendula Branch Canal (PBC) and fighting for projects like RTPP (Rayalaseema Thermal Power Plant) at Muddanur, and Proddatur Milk Foods and its ancilaries, Milk chilling plants at various locations in always remembered.
As the president of PCC for twice, Dr. YSR rendered yeomen services to the party in regaining the faith and trust of the masses. This in turn made him the most acceptable leader of the people from every corner of the State.
As the Chief Minister of Andhra Pradesh, Dr. Y.S.Rajasekhara Reddy stands as an example for
the down-to-earth administrative capacities while efficiently serving the interests of the people at large.
"Tell me what you did yester day, I'll tell what you would be doing tomorrow", said a wiseman of
the West. If one goes thro' the eventful track record of Dr.YSR, it won't be of any difficulty for him to assess the brighter future waiting on the wings of time. Dr.YSR, the Chief Minister, continues to provide the very same "Pint of confidence", that he relayed during his PRAJAPRASTHANAM PADA YATRA to the losing hearts of the farming community. This promise is taking definit shape in the 30 irrigation projects under construction in different parts of the State. All the irrigation sources in the State hitherto were able to provide water for an extent of Seven Million acres only, while the 26+4 irrigation projects initiated by Dr.YSR's Ministry will be providing water for another Seven Millions of acres. This single fact stands as an evidence to the bright future to be unfurled by Dr.YSR, the CHIEF MINISTER with a difference.
Paadayaatra

During mid-summer of 2003, he led a 1400 km long paadayaatra (journey on foot), covering some of the backward areas in the state to understand the ground realities and living conditions of the people there and gave life to the Congress Party in Andhra Pradesh. As a novice in the legislature, Reddy rallied all the Congress MLAs from the Rayalaseema region and led an indefinite hunger strike demanding solution to the water crisis. He also led a paadayaatra from Lepakshi to Pothireddipadu in Kurnool district.
Dr. Y.S.Rajasekhara Reddy
PERSONAL SKETCH
Dr. Yeduguri Sandinti Rajasekhara Reddy, the Chief Minister of Andhra Pradesh, is acclaimed - both by the National and the International figures that ever visited the State- as the best blend of an able administrator and the most loved leader of the masses. A family man to the core, Dr.YSR, rates the spirit of togetherness as the greatest cementing agent of Indian familial and social life.
Dr. Y.S.Rajasekhara Reddy hails from Pulivendula, a small town in Kadapa district of the backward Rayala Seema region. He comes from a family which stood for the cause of the downtrodden masses for generations daring the wrath of feudal lords of Kadapa district. His father Late Shree Y.S.Raja Reddy was known for his daredevilish temperament and mercurial
dynamism as a leader of the forlorn masses. Dr.YSR inherited these qualities from his father to emerge as a darling of the deprived in our State. Shree Y.S.Vivekananda Reddy, younger brother of Dr.YSR, also his "Man Friday", got elected as a Samithi President, twice as MLA, twice as Member of Parliament from Kadapa Loksabha constituency who forms the main source of strength for Dr. YSR in and around the District.
Second son of Sri Raja Reddy, YSR - born on Eighth of July 1949 - was a natural heir to his father's legacy. His father had always been a source of inspiration for YSR since his childhood. It was none other than Sri Raja Reddy who led YSR into active politics. If YSR had any role model in his earlier days it was his father. His brutal murder in 1998 inflicted a deep injury and left a dark scar on YSR's heart. Graduated in medical science from M.R. College of Gulbarga, Dr. YSR practised medicine for sometime in the District. The hospital his father built for him at Pulivendula is still running. The YS family has also built and ran a degree college and a Polytechnic College at Pulivendula, for a few years which was later
handed over to the Loyola Group of Educational Instituitions.Another junior college at Simhadripuram, a small town in the vicinity of Pulivendula, is being run by YS family.
Election 2009

Reddy's major campaign slogan for the 2009 election was "Development and the credibility". He was seeking a mandate on his performance in his previous tenure. He did not promise any new schemes before the election and only promised continuation and minor extensions to the on going schemes. The opposition parties had formed a 'Grand alliance' comprising of the major opposition party – the Telugu Desam Party (TDP), the Telangana Rashtra Samithi (TRS) and the communist parties. The TDP had promised numerous freebies including free color televisions. There was also a new party floated by a popular film star called Chiranjeevi.

In the elections, Reddy's party (INC) surpassed the required majority in the assembly (148 seats) by winning 156 seats. It has also bagged 33 seats in parliament out of 42 seats. This was seen as a very big victory for Reddy since he was able to come to power for the second consecutive term against the odds of anti-incumbency and an almost unified opposition.[24] He became the Congress party's first chief minister since 1969, that is, in four decades, to be able to seek votes in his own name, and win.[25]

Reddy was sworn in as the chief minister for the term of 2009–2014 on 20 May 2009. The ceremony was held in Hyderabad's Lal Bahadur Shastri Stadium and attended by a crowd of around 20,000 people.[26]
Disciplinarian
YSR, a disciplinarian to the core, gets up in the early hours and prepares himself for the grueling long day stretching for 16-17 hours. A health and hygiene conscious person he is, YSR is very particular about physical culture, yoga and meditation. A weightifter in his student days, his strong conviction is "A sound soul in a sound body". YSR keeps on to his appointments on the dot while he never spared any one for complacence in this regard. Not many people know that YSR is keenly interested in reading fiction in English. He has a particular liking for light-reading material. He complains to his friends against his being deprived of the pleasure of reading. But, everything has its place in the disciplinarian's world.
YSR is married to Smt. Vijayalakshmi in 1971 and is blessed with a son and a daughter. A proud-dad he is, YSR enjoys the company of his grand children to the brim- needless to mention here that he rarely finds any time to spare for his family members. His busy schedule hardly allows him to steal a few moments for his family. YSR's son emerged a successful entrepreneur to the utmost pleasure of his father. Son Jagan Mohana Reddy, daughter Sharmila, and their children enjoy a very special place in YSR's world.
Posted by

Y. S. Rajasekhara Reddy
at

11:00 PM
0 comments

Thursday, January 7, 2010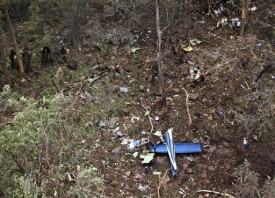 What does the
mysterious
helicopter
crash
that killed one of India's most popular politicians have to do with White House economic czar Larry Summers? Read on…
First, the
crash
: one of India's most popular politicians, who heads the state of
Andhra
Pradesh
, just died in a
mysterious
helicopter
crash
. What's eerie is that the dead politician recently went public attacking India's most powerful oligarch family, the Ambanis, threatening to take away their giant offshore gas concessions. Meanwhile the Ambani brothers, Mukesh (the world's 7th richest man) and Anil (the world's 34 richest) are battling each other in a blood feud that's taking the whole country down with them–that's not a hornet's nest you'd want to stick your fingers into, even if you're the governor of a huge Indian province. The Ambani brothers' feud peaked in May when Anil's
helicopter
was found to have been
sabotaged
just before takeoff (read about it
here
)
.
Anil strongly hinted he suspected Mukesh, but no one will ever know who did it, because the mechanic who discovered the dirt and gravel in Anil Ambani's
helicopter
gear box was hit by a train two days later in what was initially ruled as a "suicide," but which later was ruled murder.
So why would an Ambani have anything to do with the
mysterious
helicopter
crash
of
Andhra
Pradesh's
Chief
Minister
Y.S
.
Rajasekhara
Reddy
? Just speculatin' on a hypothesis, as the police
chief
says in
Miller's Crossing
, and here's why:
Just over a month ago, as the Ambani brothers' insane internecine war over offshore gas deposits dragged on with no end in sight,
Reddy
publicly demanded
that his state,
Andhra
Pradesh
, take a share of the gas deposits for itself:
Even as the two Ambani brothers are locked in a legal battle over supply and price of gas from the Krishna-Godavari basin, the Andhra Pradesh government has sought its "due share" of the hydrocarbon asset.
He even
attacked
the brothers' mother, who brokered the deal dividing up India's gas between her feuding sons:
Andhra Pradesh Chief Minister Y S Rajasekhara Reddy on Sunday said that the

settlement

of the gas dispute between the Ambani brothers could not be left to their mother Kokilaben and the Centre must play a decisive role, for which he has written to the Prime Minister.
"The dispute over sharing of

gas

is not an issue to be settled by (the) mother (Kokilaben). It is for the government to decide who should get the gas and also at what price," Reddy said on the sidelines of a function here.
Ah,
Y.S
., you shouldn'ta attacked their mother. Next thing you know…Reddy's deady.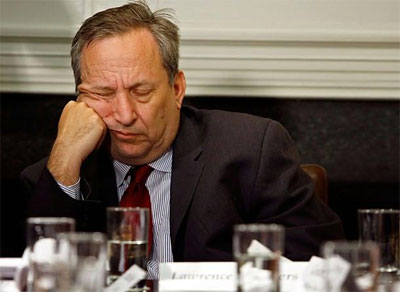 Oh, and by the way, don't forget this one little fun-fact: Larry Summers, the guy appointed by Obama to run America's economy, worked for Mukesh Ambani right up until he took his White House job. We're in good hands, folks.
Posted by

Y. S. Rajasekhara Reddy
at

8:23 PM
0 comments